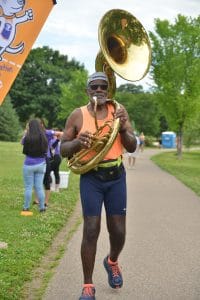 You may know Alan Page as a retired Minnesota Supreme Court Justice, NFL Pro Football Hall of Famer, co-founder of the Page Education Foundation and, most recently, Presidential Medal of Freedom recipient!
Did you also know that in 1979 he became the first active NFL player to complete a marathon? Local runners watch and listen for Alan, who cheers them on as he plays his sousaphone near Mile 3 of the Twin Cities Marathon each October.
Today, Alan enjoys daily strolls around Lake of the Isles, carrying treats for every dog he meets. He greets each dog and their owner by name and gets a wagging tail or a smile in return.
The Doggie walk honors PEF Alumni, Alan's passion for education and the community, commitment to health and love for dogs.