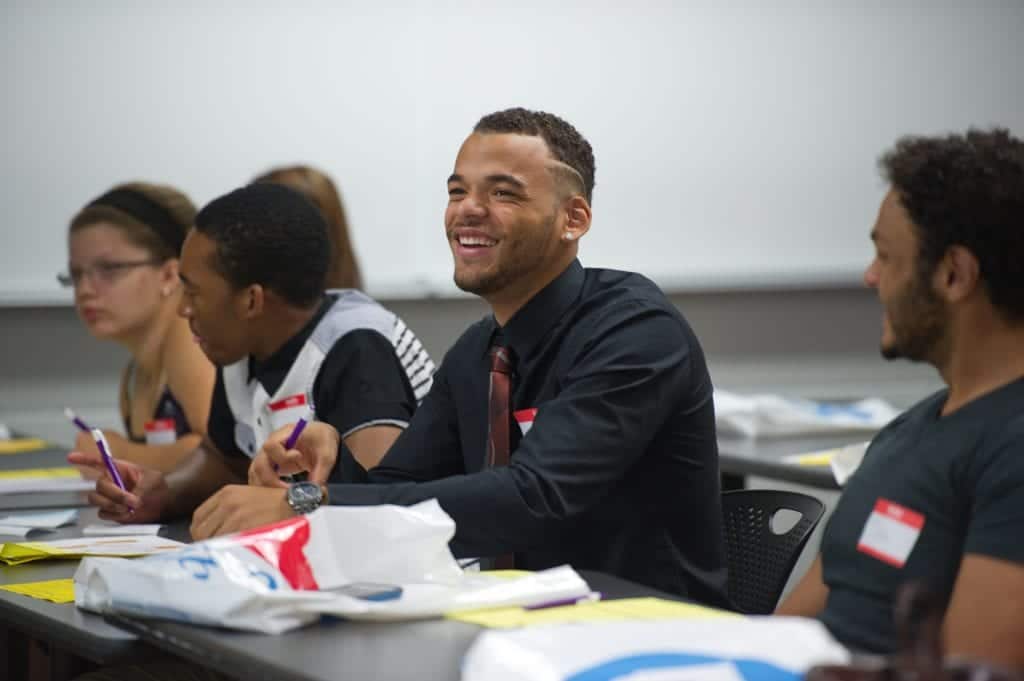 PROGRAM DESCRIPTION
Page Connections is a professional development program connecting Page Scholars to professional mentors in the community, helping them to expand their network, and providing information about internships, financial education, resume feedback, and career opportunities, and accessing soft-skills development alongside their college education.
Page Connections is year-round and ongoing. Page Education Foundation collaborates with corporate partners and local business to offer expanded learning opportunities and create internship and career opportunities. These unique partnerships benefit businesses and scholar participants: students can explore careers through hands-on internships and workshops, and businesses can then recruit from a diverse pool of potential and qualified Page Scholar graduates. Most of the workshops take place during our Fall seminar.
At the annual fall seminar, community professionals provide mentorship and connect Page Scholars to organized professional development opportunities such as workshops, informative panels, and career exploration sessions. Page Connections offers cross-cultural experiences through networking opportunities and provides financial education workshops on topics such as budgeting, negotiating a wage, loans, and insurance.
AGES SERVED BY THIS PROGRAM
18 to 35 years
PROGRAM HISTORY
Many Page Scholars, over 30% who are first-generation college students, expressed concern regarding securing meaningful employment after graduation. In 2017, through a collaboration with WorkFountain, we created a unique platform to match Page Scholars to local jobs. Unlike traditional applicant tracking systems (ATS) software, WorkFountain matches job seekers and employers based solely on skills, interests and requirements. Additionally, professional development workshops on college campuses were created, focused on career readiness for all Page Scholars. Past workshop topics have included: "Negotiating a Wage", "How to Effectively Introduce Yourself & Tell Your Story in 60 Seconds", "Resume and Cover Letter Writing", and "Drugs, Dents, and Deeds: An Overview of Insurance". Other workshops address leadership, entrepreneurship, and job searching/planning. Over 50% of Page Scholars attended last year's fall seminar.
NEEDS ADDRESSED BY THIS PROGRAM
As the first in their families to pursue white-collar work, scholars often lack access to professional relationships and networks to help propel them into the career of their choice. There are many benefits to post-secondary education. College graduates earn more than double what high school graduates earn over a lifetime. They live healthier lives, experience better working conditions, gain opportunities for professional advancement and are less likely to be incarcerated. Individuals with a higher education also contribute more to their communities. They earn more, pay more in taxes and are more likely to vote, volunteer, and engage in community life. Research shows parents with an educated background strongly influence their own children's level of educational obtainment. Page Connections ensures that the value of this education is made evident through connections to the professional world and the beginning of that legacy of empowerment.
RESULTS
In 2017-18, nearly 50 volunteers provided professional mentorship to Page Scholars and organized professional development opportunities, informative panels, and career exploration sessions. Workshop topics include: Negotiating a Wage, How to Effectively Introduce Yourself & Tell Your Story in 60 Seconds, Resume and Cover Letter Writing, and Drugs, Dents, and Deeds: An Overview of Insurance. Other workshops address diversity and leadership, entrepreneurship, financial literacy, and job searching/planning.
Page Connections often leads to career mentoring provided by community professionals who network with Page Scholars at our workshops and seminars. These relationships result in job shadowing opportunities, meeting over coffee to answer profession-related questions, and internship and job acquisition.
Additionally, we want to continue our efforts to connect Page Scholars with local businesses to assist with paid internship and job acquisition. We know that 227 Page Scholars this year have held an internship at least once in the past 2 years but only 78 of those were paid internships. According to a survey by the National Association of Colleges and Employers (March 23, 2016. Paid Interns/Co-Ops See Greater Offer Rates and Salary Offers than their Unpaid Classmates. www.naceweb.org), students who took paid internships were more likely to get a full-time job post-graduation, as well as make a higher salary than students who took unpaid internships. We want to ensure Page Scholars gain valuable experience that will lead to meaningful employment post-graduation.
Do you have an internship/employment opportunity for Page Scholars?
Inform us by emailing them to info@page-ed.org. We will share opportunities to Page Scholar via our Weekly Email Eblast.