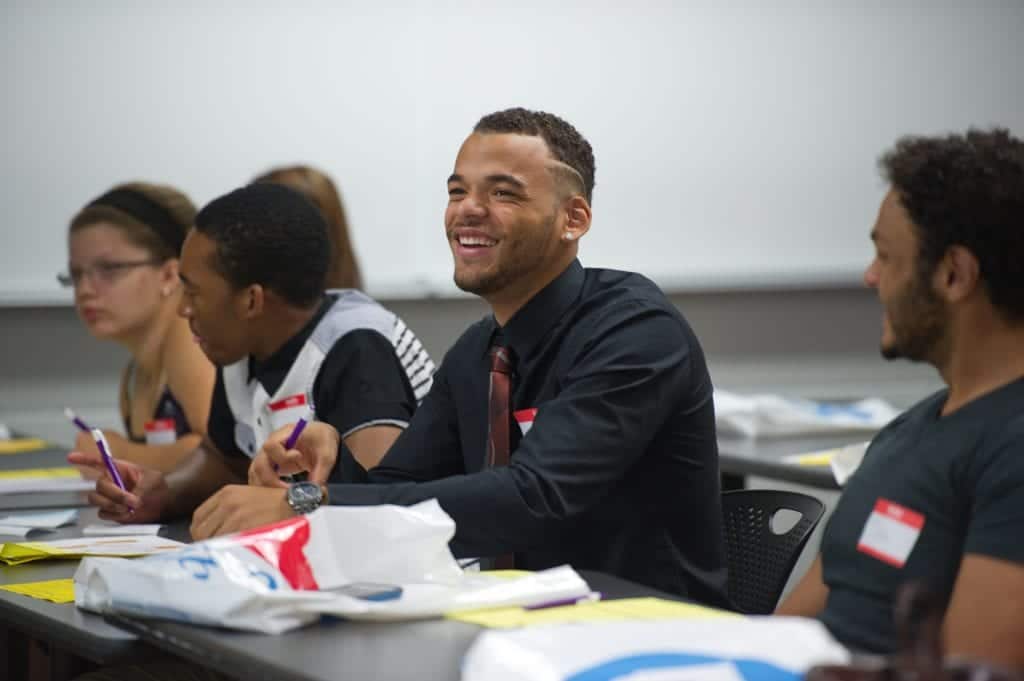 PROGRAM DESCRIPTION
Page Connections is a professional development program creating pathways to meaningful employment post-graduation. Pathways for Page Scholars encompass being matched with professional mentors in the community, expanding their networks, developing soft skills and leadership through workshops and webinars, and receiving information and access to internship and employment opportunities.
The Accelerate component of the Page Connections program is where Page Scholars learn about a local Minnesota business or company at an accelerated rate during the school year. The goal is to increase the number of paid summer internships obtained by Page Scholars with companies and businesses that have invested in their education. Page Connections - Accelerate has grown from 10 Page Scholars with 1 corporate partner in the first year to now 50 Page Scholars who participate in multiple corporate campus events, activities, and paid internships. The Page Connections program ensures that the investment Page Scholars put towards their education is maximized through connections to the professional world and helps to diversity the talent in Minnesota companies and businesses.
AGES SERVED BY THIS PROGRAM
18 to 35 years
PROGRAM HISTORY
Many Page Scholars, over 30% who are first-generation college students, expressed concern over securing meaningful employment after graduation. In 2010, Page Connections expanded from college campus visits to connecting Scholars with pathways to employment opportunities.
Page Connections is year-round and ongoing. Page Education Foundation collaborates with corporate partners and local business to offer expanded learning opportunities and create internship and career opportunities. These unique partnerships benefit businesses and scholar participants: students can explore careers through hands-on internships and workshops, and businesses can then recruit from a diverse pool of potential and qualified Page Scholar graduates. Most of the workshops take place during our Fall seminar.
At the annual fall seminar, community professionals provide mentorship and connect Page Scholars to organized professional development opportunities such as workshops, informative panels, and career exploration sessions. Page Connections workshop topics vary from financial literacy, business v. academic writing, negotiating a wages, women in leadership, addressing racism and microaggressions, informational sessions on credit and loans, insurance, and college knowledge.
NEEDS ADDRESSED BY THIS PROGRAM
The racial achievement gap in Minnesota's education system feeds into racial disparities in employment post-college graduation.  First generation college students of color are often the first in their families to pursue white-collar jobs.  Many are behind in developing what employers call basic technical and practical skills and they also lack access to professional relationships and networks that can help propel them into meaningful careers after graduation.  Programs that expand professional networks, contribute to the development of critical hard and soft skills, and provide early access to career experiences, especially in related fields of study, is key to reducing the racial disparities in graduate employment outcomes. The Page Connections ensures that the investment that our Page Scholars' have put towards their education is maximized through connections to the professional world.
RESULTS
Each year, nearly 50 volunteers provide professional development to Page Scholars through mentorship, organized professional development opportunities, informative panels, and career exploration sessions.  Past workshop topics that our volunteers have shared with Page Scholars include:  negotiating a wage, building your personal brand, resume and cover letter writing, business v. Academic Writing, how insurance works, financial literacy, entrepreneurship, becoming a consultant, women of color in leadership, job v. a career, job searching/planning, and more.
Page Connections often leads to career mentoring provided by community professionals who network with Page Scholars at our workshops and seminars. These relationships result in job shadowing opportunities, meeting over coffee to answer profession-related questions, and internship and job acquisition.  Last year, Page Connections provided Page Scholars with over 100 internship, employment and volunteer opportunities.  Of our class of Page Scholars, 227 Page Scholars help internships; 78 of those were paid.
Join our Page Connections Accelerate Partners
Is your company or businesses looking for diverse talent?  Do you have an internship or employment opportunity for Page Scholars?  Contact us at info@page-ed.org to learn more.